Four Steps to End Corruption in India
If you liked this post join Facebook Page
of "Scaling New Heights" Blog
.
Don't we have a law in India against dowry system? Don't we have a law in India against child labor? Don't we have a law in India against atrocities against women? In spite of all these laws don't we have dowry system still existing in India? Still India is plagued by issues of child labor and atrocities against women. Now we are talking about Lokpal bill and the impression most of us have is that this bill is an answer to prevent the corruptions that is happening in this country. Even if the Lokpal bill designed by Anna Hazare (chances are less that his version will see the light of the day) is made into a law will it route out corruption?
These laws are all cosmetic changes and unless we really understand why people become corrupt and treat that, this issue of corruption is going to exist. Many people "somehow" want to be rich as they believe that being rich will raise their social status in the society and money can "buy" all their dreams. So to raise their social status and buy their dreams they get into this practice of making money in all unlawful ways. So if Indian government can close all avenues by which these people who make money in an illegal way can spend, doesn't it automatically route out corruption?
Let us see where the people who made so much using corrupt ways spend the money.
Education:
If you want to do an MD now in management quota in a Medical College you should be ready to spend anywhere from 80 lakhs to 1.5 crores rupees. A medical seat will cost you close to 50 lakhs rupees. An engineering student will end up paying over 25 lakhs rupees to complete his education in management seat. For so many seats in management quota the number of applicants are more than the seats and parents are ready to pay the money management demands. In a developing country like India how many who don't indulge in corrupt ways can afford such amount as capitation? Very few, right? How can so many people afford to buy a seat spending over 50 lakhs. Unless your parents are Ambanis or Tatas it is tough to spend this much as capitation fees. Go back and check the history of those who are ready to throw this much money as capitation – 95% of them, their hands won't be clean.
Put a full stop on all capitation fees and let every one study on merit. The loss the management has to take in abolishing the capitation fee can be solved by increasing the fees of all the students and making the student loans more accessible to students.
Marriages:
Gold Mine?
Indian society thrives on "pride and prestige". You are more concerned about what is happening to your neighbor than you. You always wanted to do things better than your neighbor even if you don't have means to do that. Marriage is a perfect example where this trend is still seen.
This is a conversation I had with a bride's father two years ago
Bride's Father (B): My daughter's engagement is over. Marriage will be after 18 months.
Me (I): Why such a long gap?
B: We wanted to have our daughter's marriage in the biggest, most famous and the costliest marriage hall in XXX city. It is only available after 18 months.
I: How much does they charge?
B: Rs 5 lakh/day
A hall that charges Rs 5 lakh per day is fully booked for 18 months. In a developing country like India, how many people who make money in a lawful way can afford to spend Rs 5 lakh just for a marriage hall? But the truth is that over 500 people have booked it. Again where does this kind of money come for such extravaganza? Black money earned through corrupt ways in majority of cases.
Why can't government charge hefty tax on such extravaganza? Or why can't government frame a rule that mandates income tax department to investigate all those who conduct marriages in such a fashion so that people will be scared to conduct such kind of marriages.
Real Estate: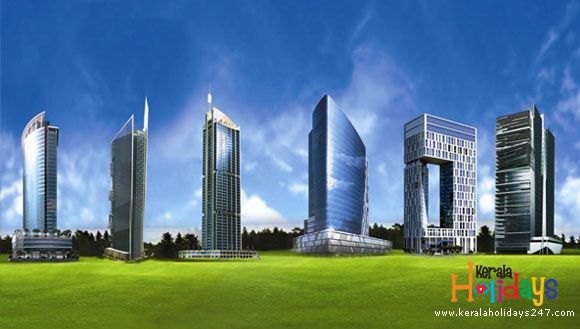 Few years ago I was trying to buy a piece of land near my home town. There were so many people who wanted to sell but none of them was ready to put the actual amount on paper. They kept on telling me that they are not ready to write more than one-third of the value in official record and finally that deal never took off.
Real estate transactions are the area where the maximum corruption exists in India. This is the place where black money earned through corrupt ways rule. Buying a piece of land has become a dream for a law abiding common man.
We need very strong laws to curb the money in real estate industry.
Luxury Houses:
Ambani can afford to construct 2 billion dollar house. Luxurious house has become a matter of prestige and a place where corrupt money goes. Investigate all those who have luxurious houses constructed and I am sure majority will have some kind of unaccounted money gone into it.
IMPLEMENT

strong laws in areas where people may end up using the money they earned through corrupt ways thus preventing them from using that money. Slowly the corrupt practices will come to an end as they cannot use that money. I feel such laws will be stronger than a Lokpal bill. What do you guys think about it?
P.S. My blog has crossed 3,00,000 visitors last week. Thanks for all my readers to make it happen.
If you liked this post join Facebook Page of "Scaling New Heights" Blog.
Labels: Capitation, Corruption, Education, Houses, Marriages, Real Estate